"This is the best heated eyelash curler I've ever used. It heats up fast and is super easy to use as well as clean. I could not be happier with my purchase." - Jody, US
Regular price
$49.95 USD
Sale price
$24.95 USD
Unit price
per
Sale
Sold out
Text block
Curly Eyelashes Just Got Waaaay Easier
Say goodbye to flat, lifeless lashes with this innovative heated eyelash curler! Its technology creates long-lasting, dramatic curls that last all day.
Our revolutionary design lets you curl your lashes in just 5 seconds, giving you beautiful and perfectly curled lashes that last for up to 24 hours!
The package includes:
1 x Dream Lashes
1 x USB Charging Cable
1 x Storage Box

✔ Rechargeable & Travel Size - The Dream Lashes includes a USB charging cable and can be recharged by plugging it in. Once fully charged it will last up to 3 weeks. The small design of the Curler can be taken anywhere, perfect for on-the-go touch-ups.
✔ 2 Temperature Modes - Green light is the low temperature (150°F) for thin and soft eyelashes; blue light is the high temperature (185°F) for thick and coarse eyelashes.
✔ Safe and Sleek Design - This Heated Curler has skin-friendly silicone thermal pads to avoid contact or harm to the eyelid. It has a perfect curve and width which was professionally designed and tested to fit most eye shapes.
✔ Easy to use - Fully controlled using one single button. Press and hold the button for 1.5s and allow preheat for 10-30s, clip lashes for 5-10s, and voila perfectly curled lashes.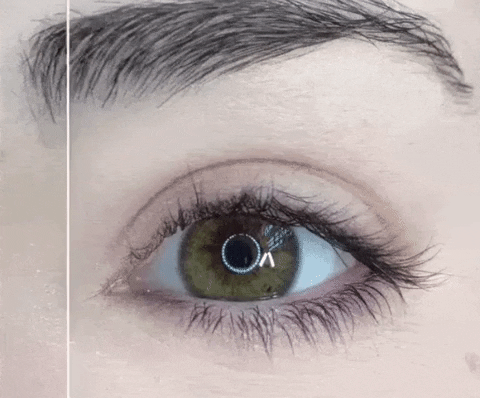 How to use it

To use the curler, press and hold the button for 1.5 seconds to allow it to preheat, then clip the lashes for 5-10 seconds to curl them.

A heated eyelash curler with two heat settings is used to curl and shape eyelashes. The green light (low temperature) is for thin and soft eyelashes, and the blue light (high temperature) is for thick and coarse eyelashes.
Frequently asked questions

Will this work on my eyelash extensions?

Yes, it's okay to use with extensions. We advise using the lower temperature at first until you reach curls to your satisfaction.

How long does it take to curl my lashes with this?

Our innovative design lets you curl your lashes in just 5-10 seconds, or up to 30 seconds depending on the thickness or straightness of your lashes.

How long does it take to heat up before using it on my lashes?

You can use the curler after just 10 seconds of warming up.

How long does it take to charge?

It takes 30 minutes to charge fully via the included USB charging cable.

What's the difference between this and a regular clip eyelash curler?

Dream Lashes is the future of eyelash curling, whereas regular eyelash curlers are a thing of the past. Our device's dual heating functions make it easier for you to achieve more curl in your lashes - in faster time!
Shipping & Delivery

Orders takes between 2-5 days to be delivered.

All orders are shipped using a tracked service for your peace of mind. In case of loss, we provide a new shipment free of charge or your money back.
View full details
Here's why you'll love it
Hannah P.

"This curler is a game changer. I was always so insecure about my lashes, but now they look amazing!"

Sarah B.

"I LOVE this heated eyelash curler! I have super straight eyelashes and nothing holds a curl usually."

Meg P.

"I have very tiny, thin, straight lashes. A regular curler does nothing to them, but this has been such an improvement!"
Do you have any question?
If you have any doubts, concerns or questions about this product or your order, don't worry, we are here to help you. Just contact us and we will solve it immediately :)