"I am totally loving these atomizers! These are leak-proof, easy to use and easy to fill. Perfect for traveling or to carry around in your purse. " - Ana, US
Regular price
$18.95 USD
Sale price
$9.95 USD
Unit price
per
Sale
Sold out
• Quick & easy to fill
• Compact & lightweight
• Holds 5 ml of fragrance for 120 sprays
• Free shipping when you buy 2 or more
Smell great anytime, anywhere.
The Little Scent refillable perfume bottle makes it easy to transfer your favourite fragrance without spilling a drop, to go everywhere you do!
The travel-size pocket fragrance atomizer is specially designed for spray fragrances and fills up in seconds for quick, easy and mess-free use.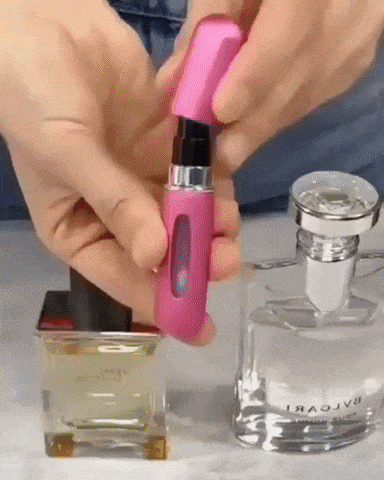 ✔ Premium materials - High-quality aluminum outer shell. Eco-friendly glass interior container, made with borosilicate glass for durability and strength.
✔ Innovative design - The design offers visibility to the inside of the perfume atomizer allowing you to see the amount of liquid remaining.
✔ Multipurpose - Can be used not only for perfume and cologne but other items such as make-up remover, toner, fragrance mist, and more.
✔ Optimal size - It has a capacity of 8ml. Perfect to carry in your pocket or bag wherever you go. Size is TSA approved for airport travel.
How to use it

To fill, remove the top of your perfume sprayer, insert the tube into the base of the refillable perfume bottle atomizer and pump to fill.

With each push, perfume sprays into the Atomizer and when filled holds up to 120 sprays.
Shipping & Delivery

Orders takes between 2-5 days to be delivered.

All orders are shipped using a tracked service for your peace of mind. In case of loss, we provide a new shipment free of charge or your money back.
View full details
Do you have any question?
If you have any doubts, concerns or questions about this product or your order, don't worry, we are here to help you. Just contact us and we will solve it immediately :)